I just returned from the CTMH Convention out in Disneyland. My Oh My...do I have LOTS to share with y'all! The 2011/2012 Autumn/Winter Idea Book is AMAZING...and it goes live on August 1st!
Before we say hello to all the fabulous new kits, accessories and stamp sets, we must visit the current Idea book and stock up on all those products that will not be available come August 1st. Below is a list of such products. Feel free to contact me with your order OR you can place your order on my website (
amy.myctmh.com
). And don't forget about the "More Bang For Your Buck" special going on until the end of the month- for every $50 you spend you get to choose from a select list of product and purchase it for just $1.00!!!! Now is the time to stock up on all your favorites that will be going away on August 1st.
Pap
er Kits
Bliss Level 1 -- X7132A pg 12
Bliss Level 2 -- X71
32B pg 12
Bliss stickease -- X7132C pg 12
Miracle L1 -- X7133A pg 16
Mira
cle L2 -- X7133B pg 16
Miracle stickease -- X7133C pg 16
Sweetheart L1 -- X7134A pg 2
0
Sweetheart L2 -- X7134B pg 20
Sweetheart stickease -- X7
132C pg 20
Wings L1 -- X7135A pg 24
Wings L2 -- X7135B pg 24
Wings stickease -- X7135C pg 24
Magnifique L1 -- X7127A pg 38
Magnifique L2 -- X7127B pg 38
Magnifique stickease -- X7127C pg 38
Olivia L1 -- X7128A pg 38
Olivia L2 -- X7128B pg 38
Olivia stickease -- X7128C pg 38
· Hooligans L1 -- X7129A pg 39
· Hooligans L2 -- X7129B pg 39
· Hooligans stickease -- X7129C pg 39
· Mistletoe L1 -- X7130A pg 39
· Mistletoe L2 -- X7130B pg 39
· Mistletoe stickease -- X7130C pg 39
· Sweetheart WOTG -- G1017 pg 41
· Lucky WOTG -- G1018 pg 41
· Sophia WOTG -- G1019 pg 41
· Bliss WOTG -- G1020 pg 42
· Fanfare WOTG -- G1021 pg 42
· Mayberry WOTG -- G1022 pg 42
· Miracle WOTG -- G1023 pg 43
· Wings WOTG -- G1016 pg 43

Cardstock: If you love the 24 packs of one color, most colors are going..going...Gone! Prices will go up to $14.50 per pack. I highly recommend buying your favorites even though some colors (mostly neutrals & fall colors) will still be available in packs of 24. So if you love New England Ivy for Christmas or Outdoor Denim, buy it now. If you love Cranberry or Olive, it will still be available but at the higher price ($14.50)
These colors will be discontinued in 24 sheet packs of one color and are only $9.50 until July 31.
Parchment
Taffy
Sunkiss Yellow & Sunny Yellow
Lilac Mist & Amethyst
Holiday Red
Sunflower & Goldrush
Moonstruck (everyone loves this color)
Sorbet
Spring Iris
Pansy Purple
The many other color cardstocks will be sold in combo packs only.

How will you be able to buy the colors in the new Catalog?
They will have 12 colors per pack/2 of each color (24 sheets total) for $14.95 and *NEW* 8 1/2 x 11 will be $11.95

They will also have Shade Packs colowhich consist of 3 colors/4sheets per color (12 sheets total) for $7.95

The color I have listed above ARE NOT in the Shade Packs
Colonial White & White Daisy as well as Kraft will continue to be sold in 24 sheet packs for only $9.50

Block Organizer: (this is one of my favorites- have to have it!) (Z185) For $22.95 (fill it now with these blocks that are being retired):
1 x 1-1/2 Y1001 $4.50
1 x 6 1/2 Y1005 $6.50
2 1/2 x 2 1/2 Y1004 $7.50
2 x 11 Y1007 $14.95
4 x 4 Y1008 $10.50
4 1/2 x 6 1/2 Y1011 $17.95

We will be adding a *NEW* block of 4 x 5" for $15.95.. Check your stamps to see if you need these size blocks to use your stamps and BUY IT NOW!

Kraft Borders: yes the manufacturer is discontinuing this HOT item!!!!

Some Ribbon Rounds: Sweet Leaf, Buttercup & Cranberry

Chipboard: Borders, Booksmart & Framed Fun

Irresistable Chipboards: Miracle & Villa

Accesories-
· Sophia L2 Journaling Spots -- Z1357 pg 116
· Mini Medley Accents â€" Pear -- Z1339 pg 117
· Mini Medley Accents â€" Lagoon -- Z1340 pg 117
· Mini Medley Accents â€" Outdoor Denim -- Z1277 pg 117
· Top Coats â€" Framed In -- Z1211 pg 118
· Rub Ons â€" Across the Board -- Z1231 pg 118
· Rub Ons â€" Primavera -- Z1265 pg 118

All Envelope Flaps (Attn. Card makers)...

Markers and Stamp Pads-
Stamp Pad set â€" Antique -- Z1564 pg 124
· Stamp Pad set â€" Timeless -- Z1569 pg 124
· Stamp Pad set â€" Harmony -- Z1560 pg 125
· Stamp Pad set â€" Blossom -- Z1570 pg 125
· Stamp Pad set â€" Carnival -- Z1573 pg 125
· Stamp Pad set â€" Celebration -- Z1574 pg 125
· Stamp Pad set â€" Harvest -- Z1562 pg 125
· Stamp Pad set â€" Garden -- Z1567 pg 125
· Stamp Pad set â€" Classic -- Z1563 pg 125
· Stamp Pad set â€" Cozy -- Z1600 pg 125
· Marker set â€" Antique -- Z1554 pg 124
· Marker set â€" Timeless -- Z1559 pg 124
· Marker set â€" Harmony -- Z1550 pg 125
· Marker set â€" Blossom -- Z1571 pg 125
· Marker set â€" Carnival -- Z1572 pg 125
· Marker set â€" Celebration -- Z1575 pg 125
· Marker set â€" Harvest -- Z1552 pg 125
· Marker set â€" Garden -- Z1557 pg 125
· Marker set â€" Classic -- Z1553 pg 125
· Marker set â€" Cozy -- Z1610 pg 125
· Textured Cardstock â€" White Daisy -- X5671 pg 124

Lots of Stamp Sets!!
...And now for some even more exciting news! If you have visited my blog in the past few days you have already heard the news. Close to my Heart has teamed up with Cricut and we will be offering an AMAZING Cricut Cartridge starting August 1st! This cartridge is AMAZING...better than any you already have. It has 700 different things you can cut! And we will have stamp sets that coordinate! AWESOME Stuff!!!! Create handcrafted artwork in a snap with this cartridge. Simply plug in your Cricut and you're ready to cut any of the 700 shapes, ranging from elegant rosettes and lace to trendy gift boxes and banners! You'll also receive three My Acrylix D-size stamp sets as well as three sets of 9 x 12 Dimensional elements that work in tandem with the cartridge. On top of that, numerous My Acrylix stamp sets in the Idea Book pair wonderfully with images on the Cricut cartridge. This entire collection will sell for the low price of $99 (do the math and the cartridge comes out to be about $25!)! Check out my blog to watch a short video that introduces you to the Art Philosophy Cricut Cartridge!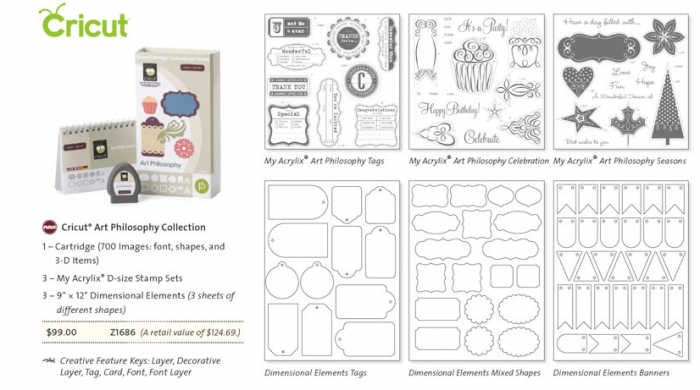 A few more highlights- As you browse the new idea book, you will notice stamp sets that have a red line around them. That means they are Cricut Compatible! HOW COOL IS THAT!!!!
700 Shapes on the cartridge!
46 sizes each
32,200 possibilities!!!
So how do you get this exclusive cartridge? It is easy, here are a few ways to own this wonderful new cartridge.
I am taking pre-orders for this cartridge which is available August 1st. Place your order before July 31st and get a free gift exclusively from me. In addition to the free gift you will get the July SOM for FREE!
Host a party with sales of $250 or more and you can get this cartridge for half price!
Become a consultant and order it yourself at a great discount.
This is one cartridge you will want to add to your collection. It takes creating to a new level of faster, simpler and easier!
Here is a fabulous piece of art created by my dear friend and fellow consultant, Lisa Stenz, using this INCREDIBLE cartridge!!!!! Contact me TODAY to pre-order YOURS!!!!